Share this article paywall-free.
The transfer portal plays a bigger role every season in the makeup of major college basketball rosters.
Who wins the Big Ten next year will rest largely on who comes and goes in the portal.
The Illini's biggest portal losses were Jayden Epps, who had taken over lead guard duties before a concussion near the end of the season, and RJ Melendez, who started 18 games last season. Guard Skyy Clark and center recruit Zacharie Perrin left midseason.
Reserve center Brandon Lieb also transferred to Illinois State, and with the loss of senior Matthew Mayer, Illinois has lost 41% of its minutes from last season.
Terrence Shannon Jr. and Coleman Hawkins both could return next season if they withdraw from the NBA Draft, which would mean Illinois returns 59% of its minutes. If just Shannon returns, that number is 43%.
Illinois had 14.8% of its minutes return last season, one of the lowest marks in the country, and next year's numbers will be around the Division I average of 41% from last season. 
Here's how the Illini compare to the rest of the Big Ten.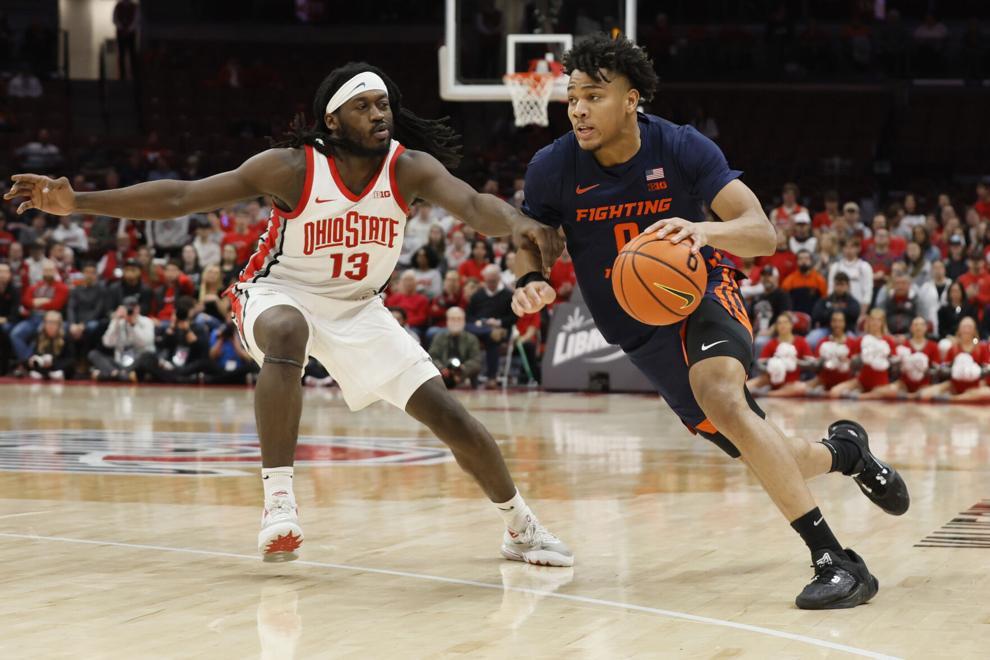 Ohio State
The Buckeyes lost a majority of their rotation from a disappointing campaign last season, including leading scorer Brice Sensabaugh and veteran Justice Sueing to the NBA Draft.
Veteran transfers Sean McNiel and Isaac Likekele are out of eligibility as well, with other rotation pieces in Tanner Holden and Eugene Brown entering the transfer portal.
Ohio State returns Bruce Thorton, the team's leader in minutes last season who averaged 16.4 points over his final eight games as a true freshman. The Buckeyes added Minnesota transfer Jamison Battle with Baylor transfer Dale Bonner and Penn State transfer Evan Mahaffey, and a prep recruiting class that's seventh in the country.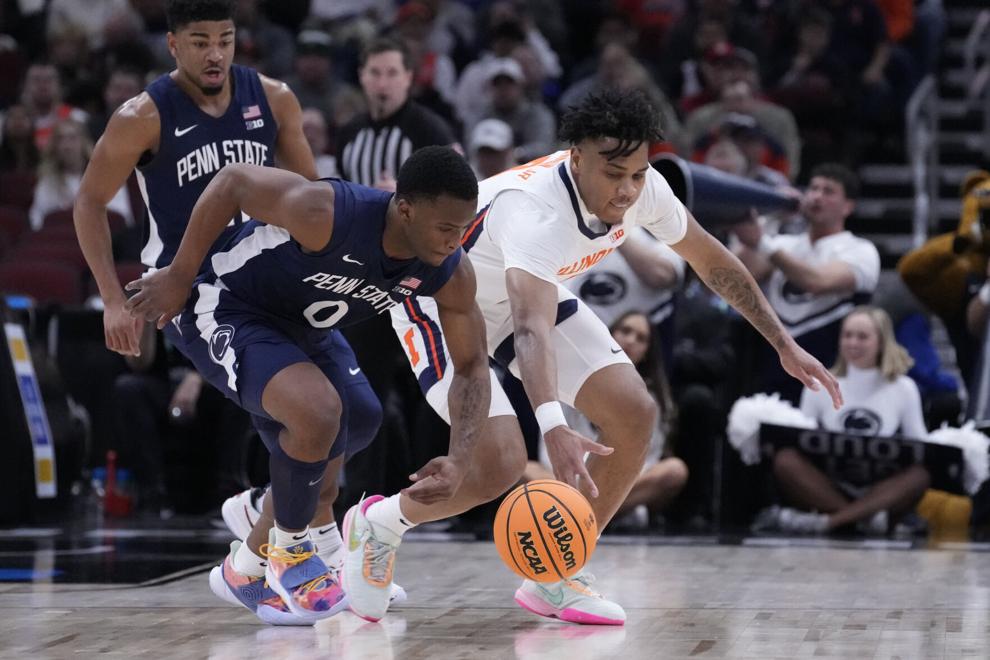 Penn State
With the loss of veterans like Jalen Pickett, signaling the end of the "booty ball" era in the Big Ten, and also Andrew Funk, plus the loss of head coach Micah Shrewsberry, there is a significant amount of turnover for the Nittany Lions. Only one player who played over 100 minutes returns.
Kanye Cleary and Demetrius Lilly return, but that's it. New coach Mike Rhoades brought Ace Baldwin, last year's Atlantic 10 Player of the Year, and Nick Kern with him from VCU with Georgetown transfer Qudus Wahab.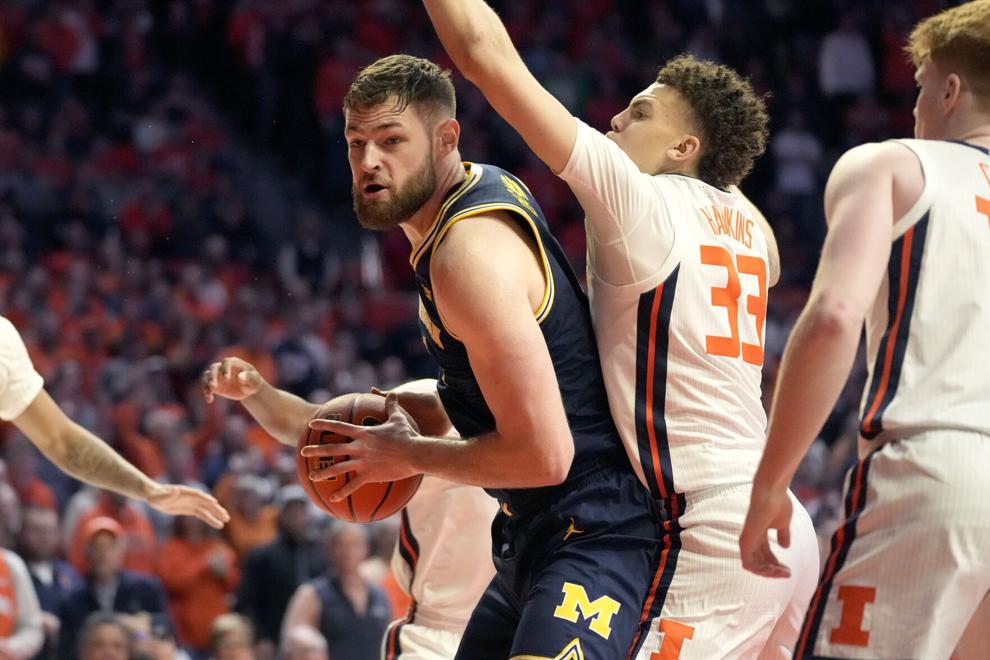 Michigan
The Wolverines lost star Hunter Dickinson while Jett Howard declared to the NBA Draft. Kobe Bufkin looks set for the NBA Draft as well.
Those were the only three Wolverines who averaged double figures last season, so scoring will need to be developed or acquired.
The initial target in the portal was North Carolina transfer Caleb Love, but he reopened his transfer recruitment May 17. Alabama transfer Nimari Burnett and Seton Hall transfer Tray Jackson join while guards Dug McDaniel and Jaelin Llewellyn return.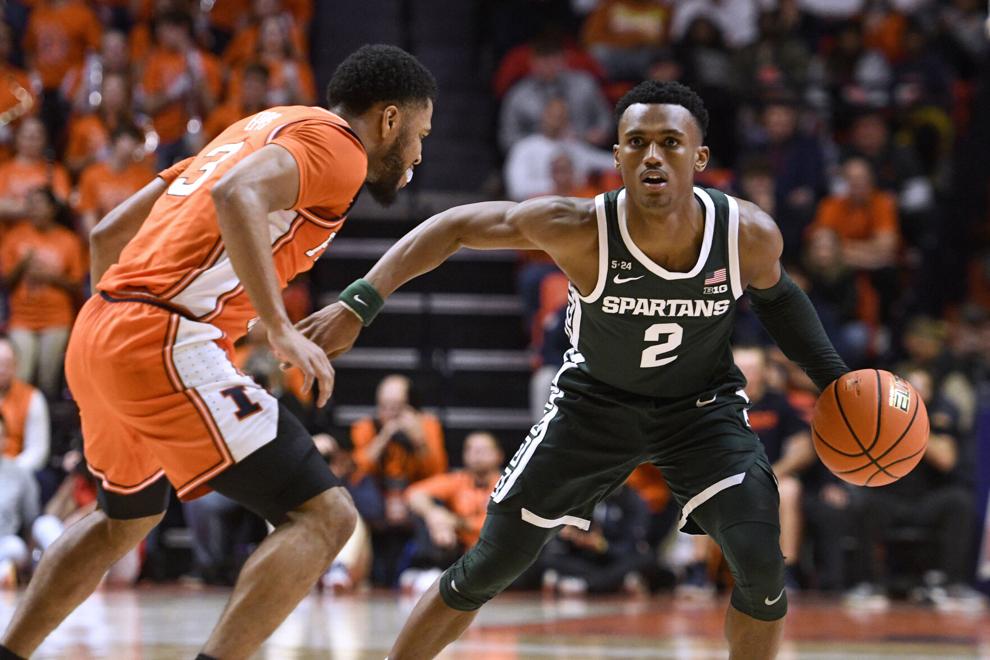 Michigan State
Continuity went a long way in making the Spartans a Sweet 16 team last season. That will be the theme of the team this season with Joey Hauser the only rotation piece set to leave.
AJ Hoggard and Jaden Akins are currently in the NBA Draft and could withdraw, but the team will be led by star guard Tyson Walker. Bigs Malik Hall and Mady Sissoko return with five-star freshman Xavier Booker and McDonald's All-American Jeremy Fears.
Indiana
The Hoosiers lost Trayce-Jackson Davis and Jalen Hood-Schifino to the NBA while Tamar Bates and Jordan Geronimo entered the portal. Miller Kopp and Race Thompson are also out of eligibility.
Xavier Johnson returns after injury kept him out of most of last season, while former Mcdonald's All-American Kel'el Ware leads the Hoosiers' transfer class. Five-star McKenzie Mgbako also joins to give Indiana front court reinforcements.
Trey Galloway and Malik Reneau are set for bigger roles in the rotation next year.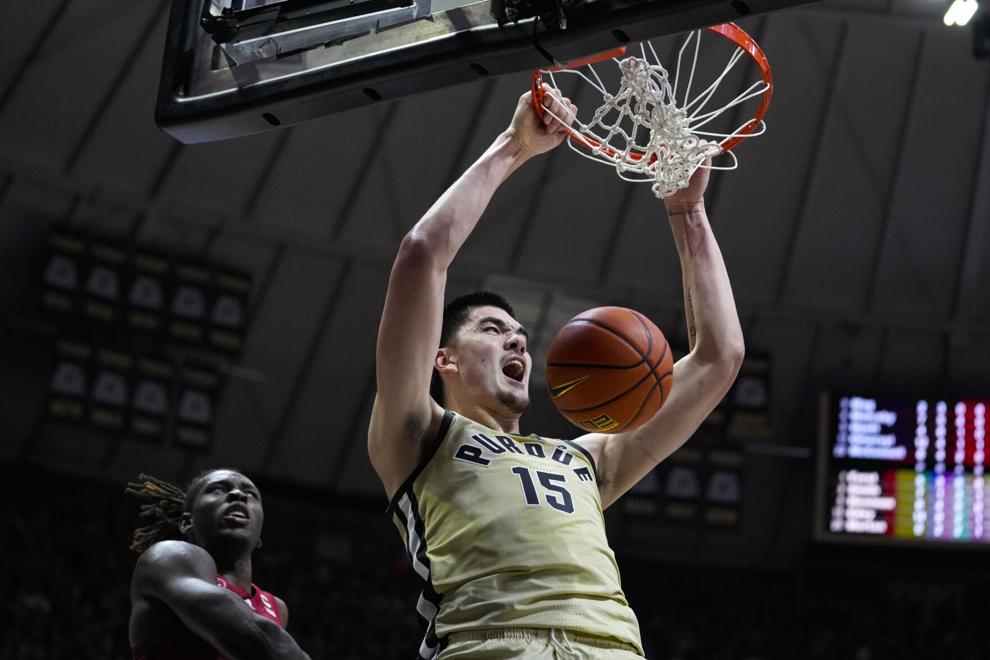 Purdue
The Boilermakers ran away with the Big Ten title last season, and if Zach Edey returns for another season they'll be the clear favorites next season.
They'll return 84% of their minutes if Edey comes back, with starters Braden Smith and Fletcher Loyer coming back as sophomores. Veteran wings Mason Gillis and Caleb Furst also return while transfer guard Lance Jones adds experience to the backcourt.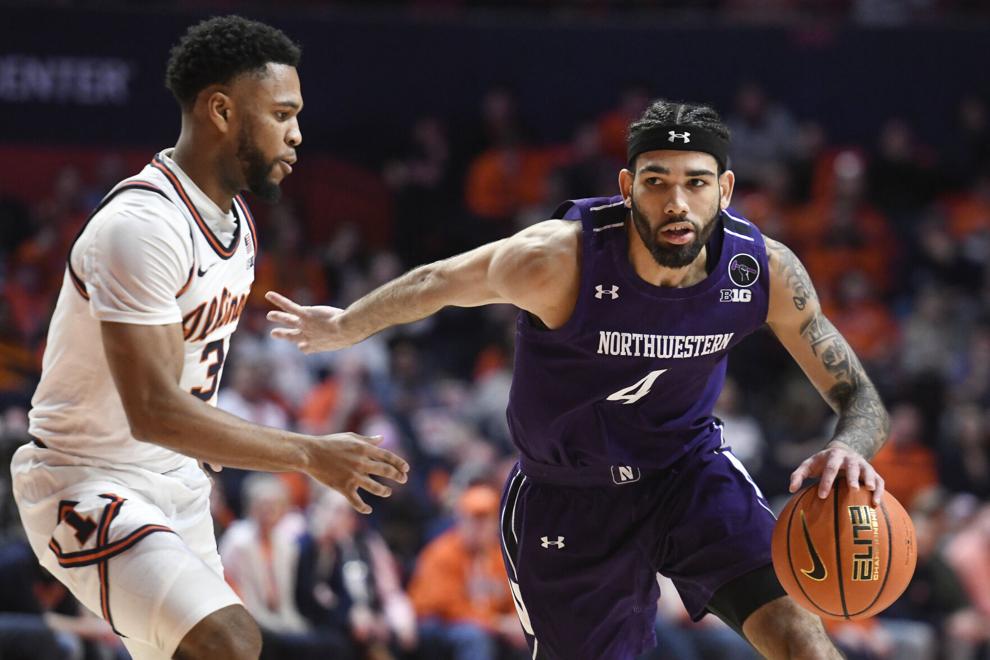 Northwestern
The announcement of Boo Buie's return meant the Wildcats will return a good portion of its team that finished second in the conference last season.
Chase Audige will have to make a decision regarding his NBA future, but Ty Berry, Matthew Nicholson and Brooks Barnheizer all return. Starter Robbie Beran and bench player Julian Roper each left for the portal.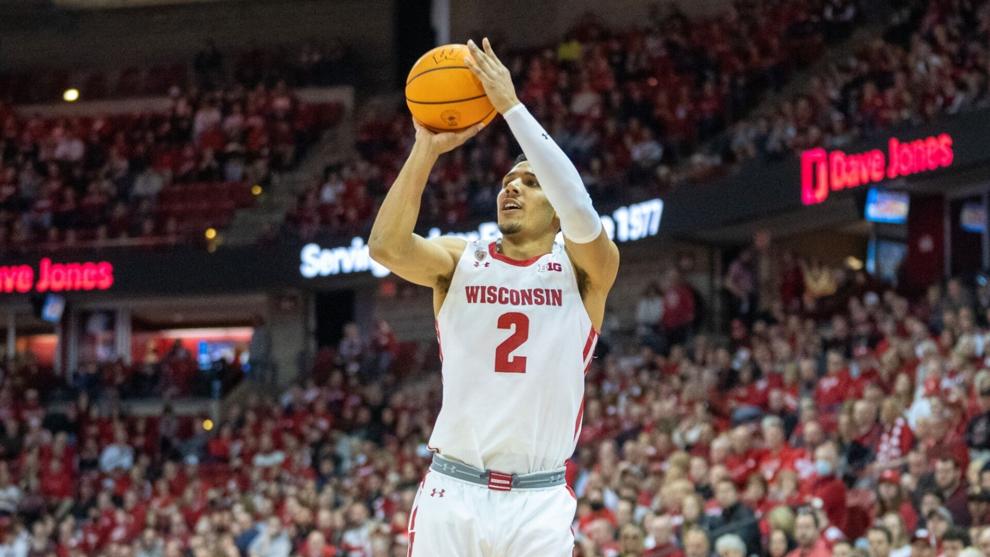 Wisconsin
The Badgers made the Final Four of the NIT after being on the wrong end of the bubble, but return everyone on that team besides Jordan Davis.
St. John's transfer AJ Storr joins last year's starters Tyler Wahl, Connors Essegian, Steven Crowl, Chucky Hepburn and Max Klesmit.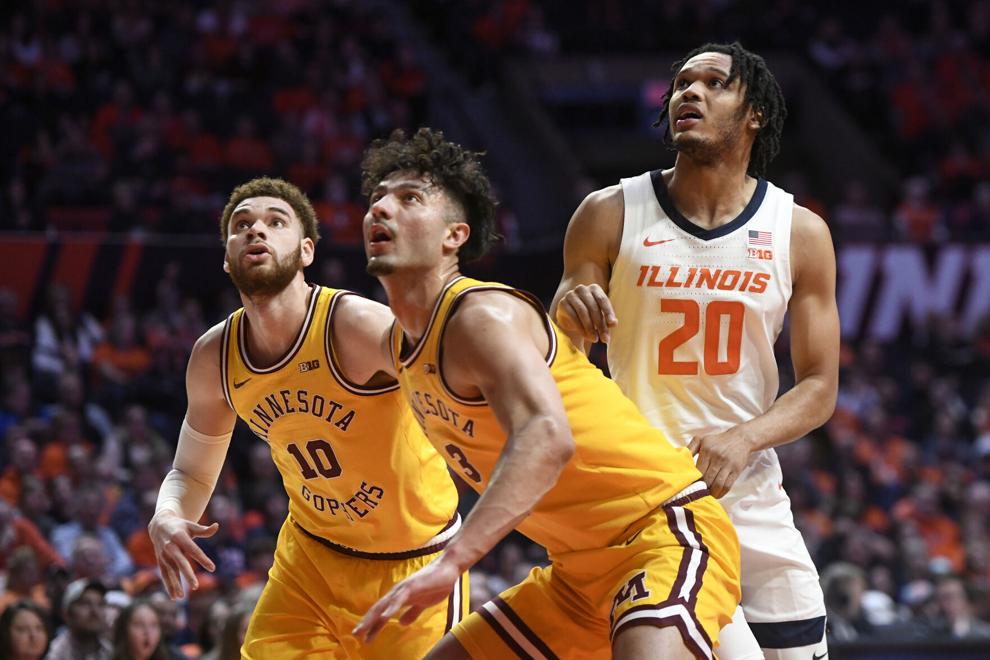 Minnesota
After another year near the bottom of the conference, the Gophers lost two of their most important players in Jamison Battle and Talon Cooper.
Leading scorer Dawson Garcia and promising forward Pharrel Payne return, while the Gophers added transfer guards Elijah Hawkins (Howard) and Mike Mitchell Jr. (Pepperdine). Former Washington State big Jack Wilson also transferred to Minnesota.
Maryland
Jahmir Young's return with Julian Reese and Donta Scott means the Terrapins won't have as much roster turnover.
Starting wing Hakim Hart is the most significant transfer loss, while Maryland adds a top-20 recruiting class with New Mexico transfer Mady Traore.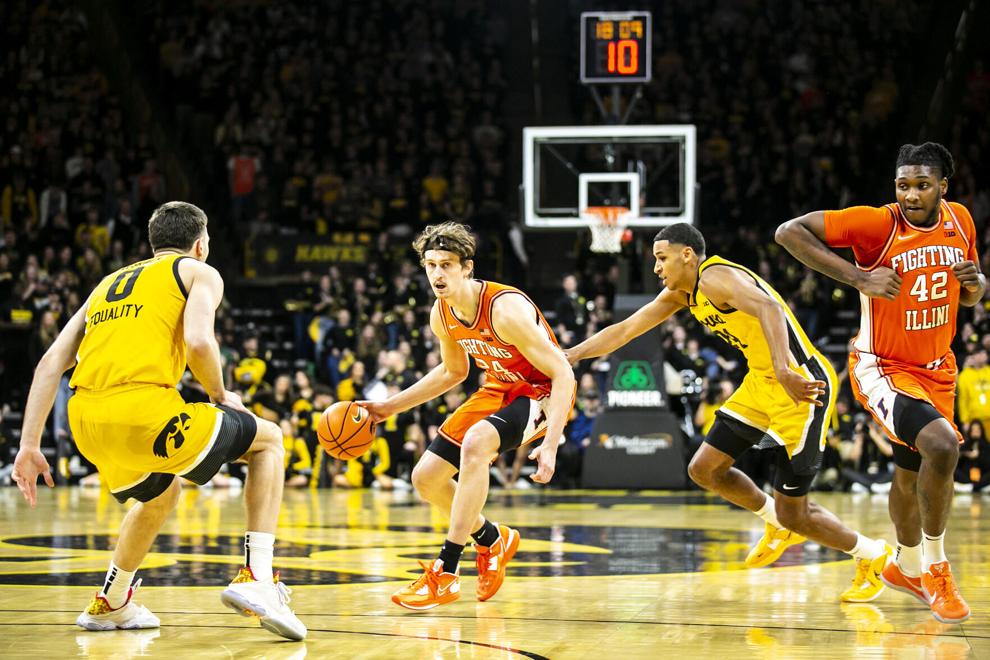 Iowa
The losses of Kris Murray, Filip Rebraca and Connor McCaffery take away a chunk of the team's minutes, while guard Ahron Ulis transferred to Nebraska.
The Hawkeyes return less than half of their minutes from last season with returners including Tony Perkins, Payton Sandfort and Patrick McCaffery.
Illinois Mr. Basketball Brock Harding and four-star Pryce Sandfort lead the Hawkeyes' recruiting class while Valparaiso transfer Ben Krikke and Belmont transfer Evan Brauns will go a long way to replacing Rebraca.
Rutgers
Cam Spencer is the biggest loss to the portal, with the graduate transfer being able to leave after the end of the transfer window.
Clifford Omoruyi and Paul Mulcahy could also leave to the NBA Draft, while Caleb McConnell is out of eligibility. Massachusetts transfer Noah Fernandes could help soften that blow, while the return of Omoruyi or Mulcahy would go a long way.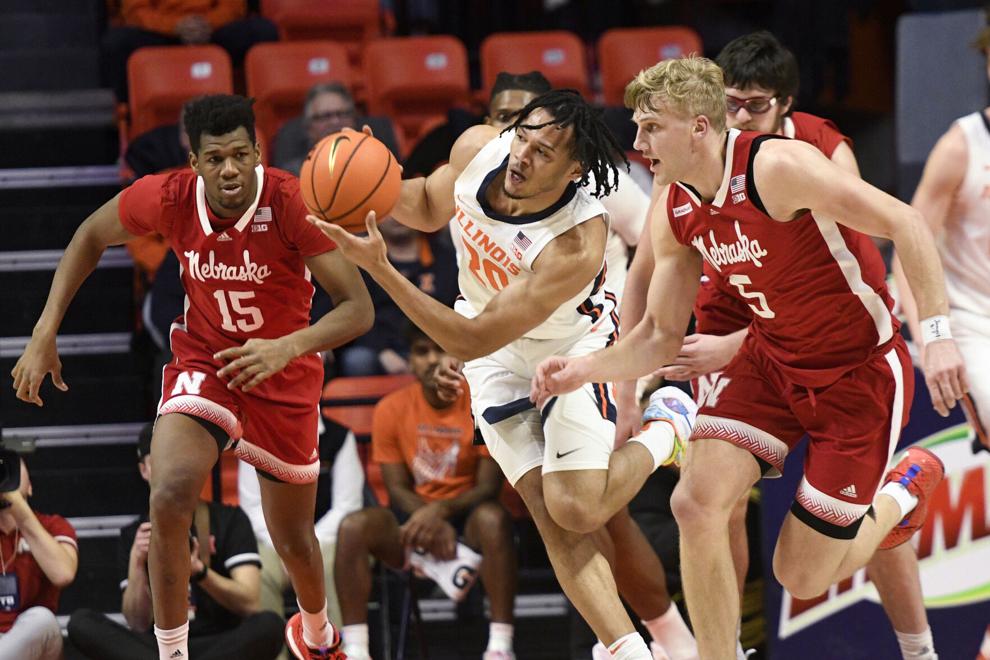 Nebraska
Keisie Tomonaga's draft decision is the biggest domino to fall for the Huskers. Sam Griesel and Derrick Walker departed while Denim Dawson transferred to Tennessee State.
Wilhelm Breidenbach also entered the portal, and if Tomonaga keeps his name in the draft, then Nebraska will have to overhaul a roster that went 16-16 last season.
PHOTOS: Illinois beats Michigan in OT thriller
Michigan Illinois Basketball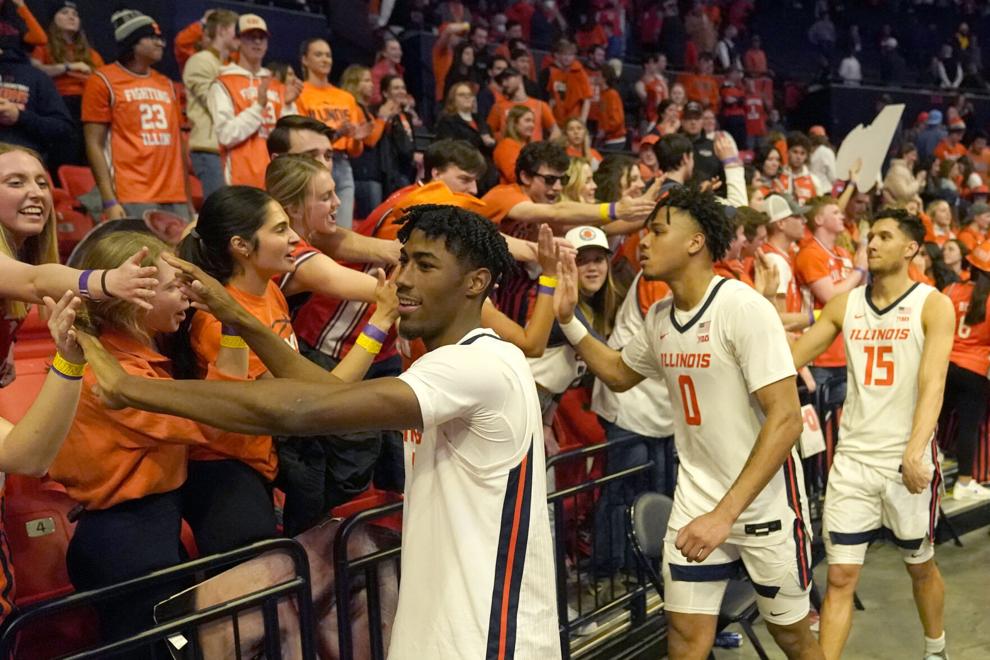 APTOPIX Michigan Illinois Basketball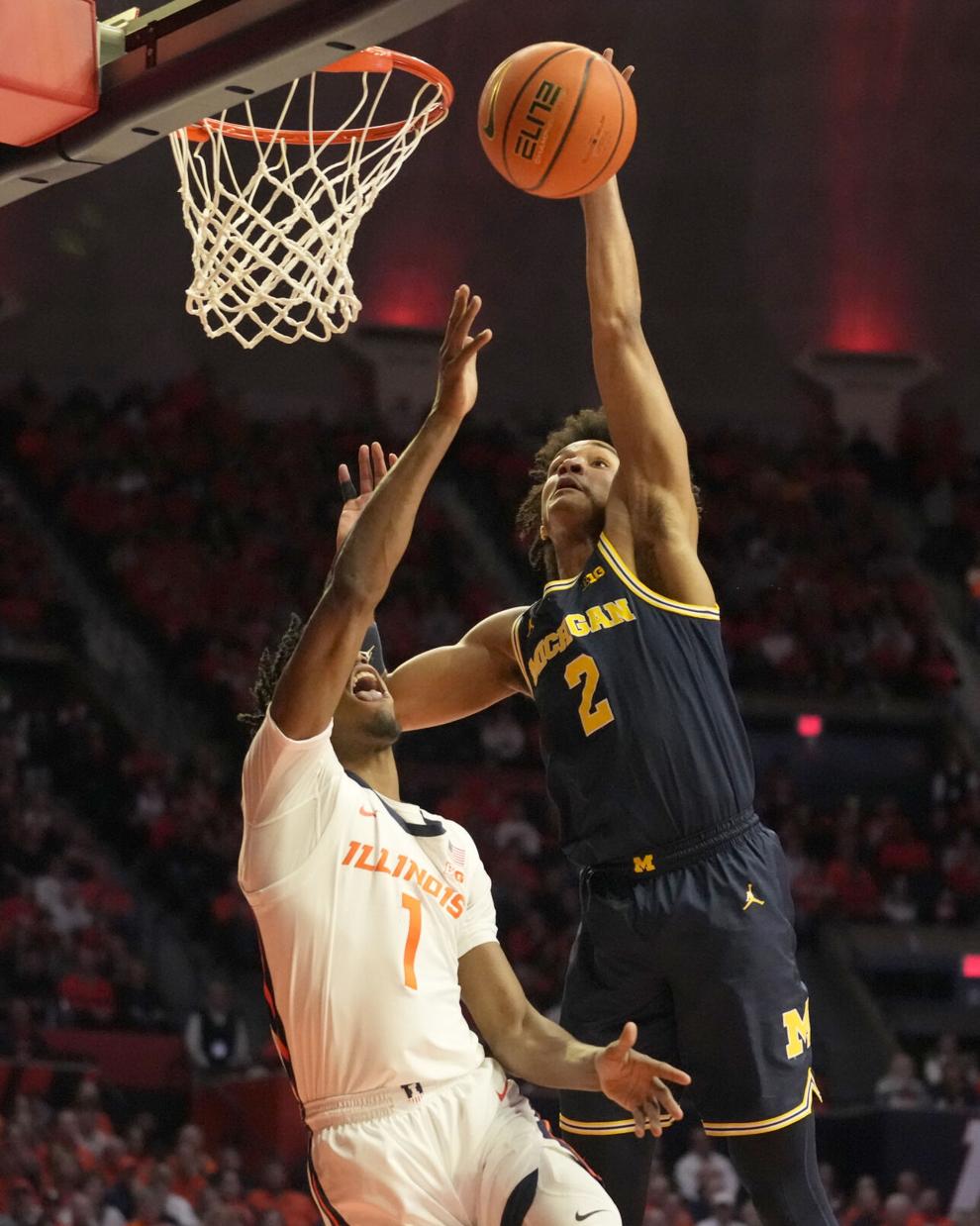 Michigan Illinois Basketball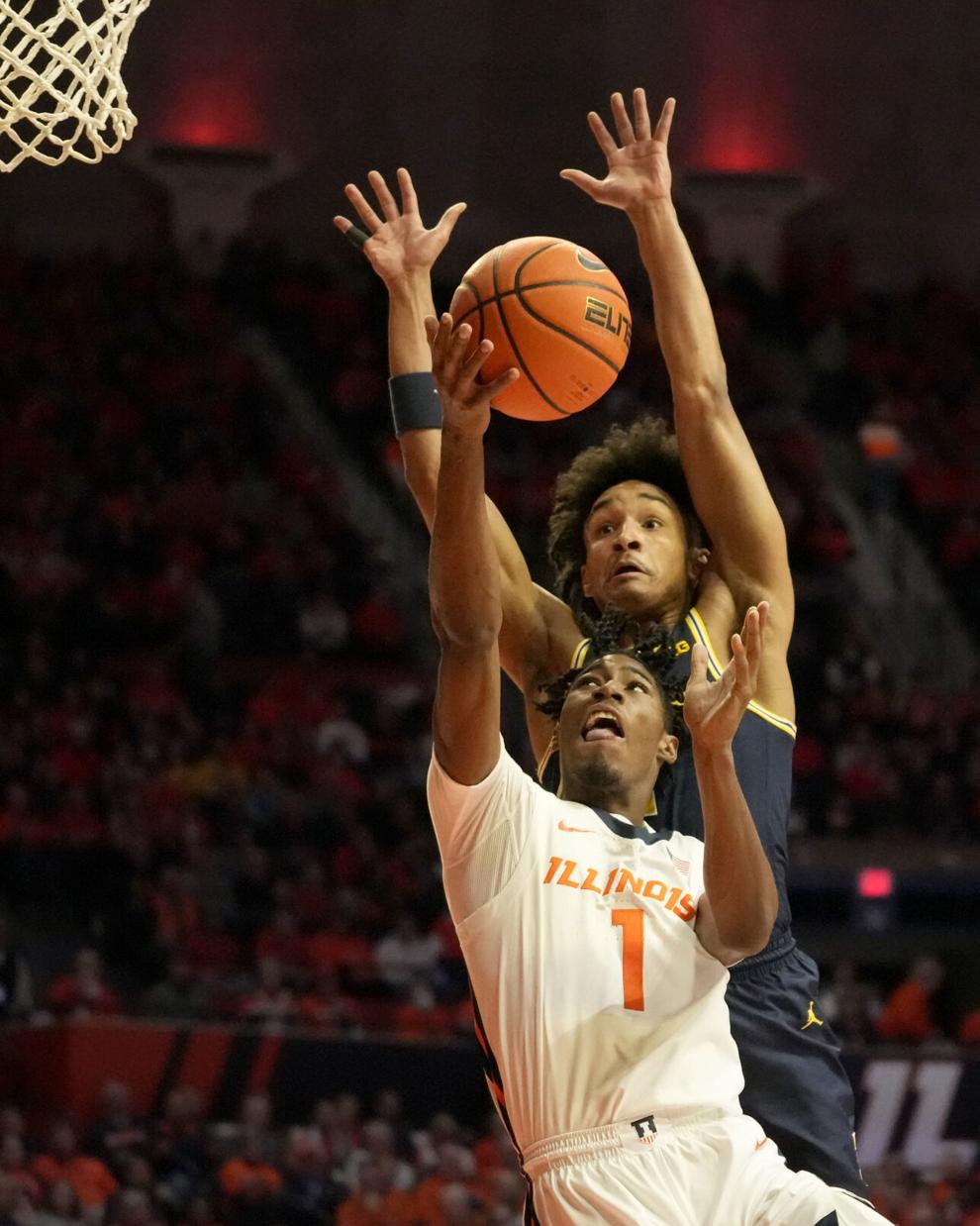 Michigan Illinois Basketball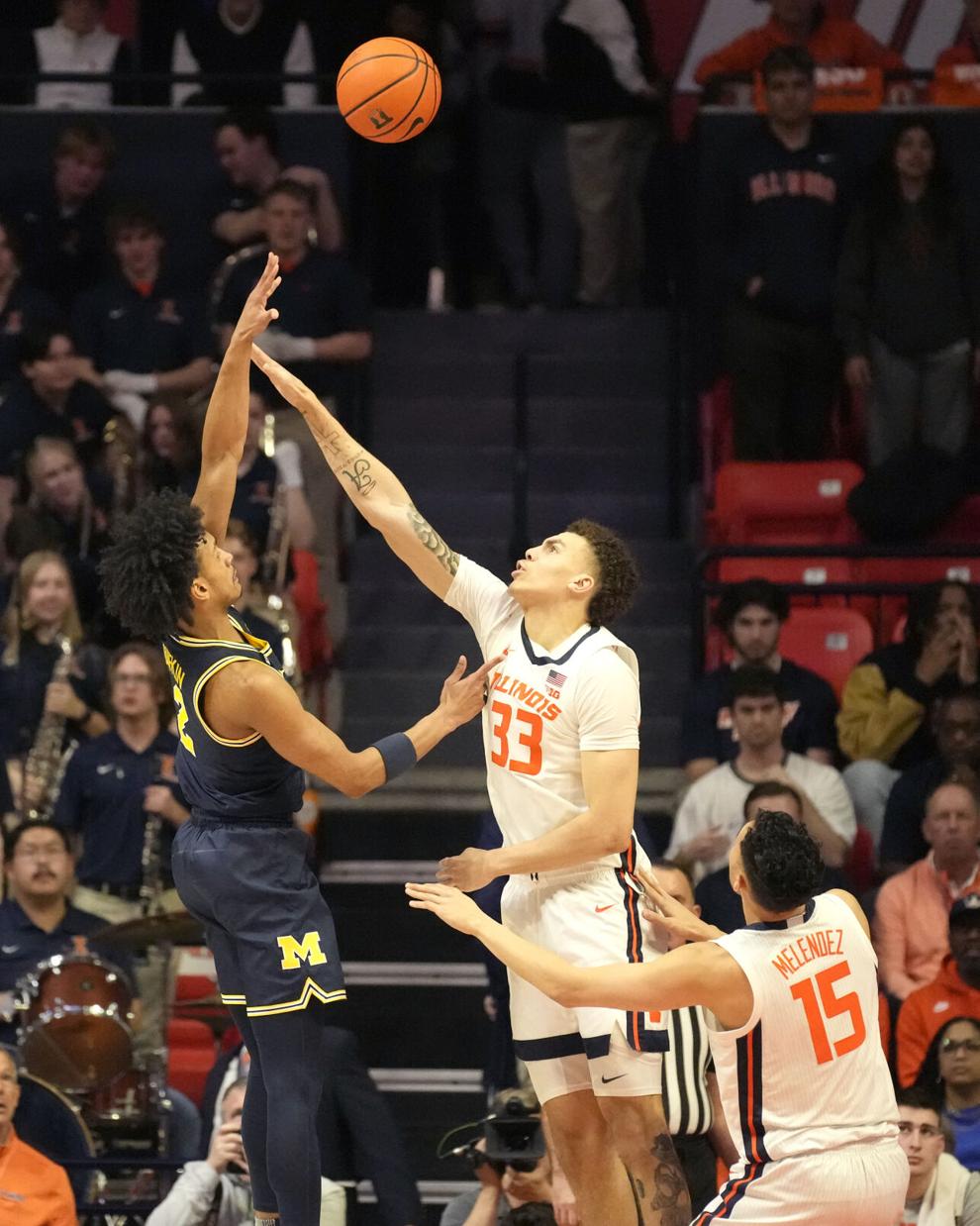 Michigan Illinois Basketball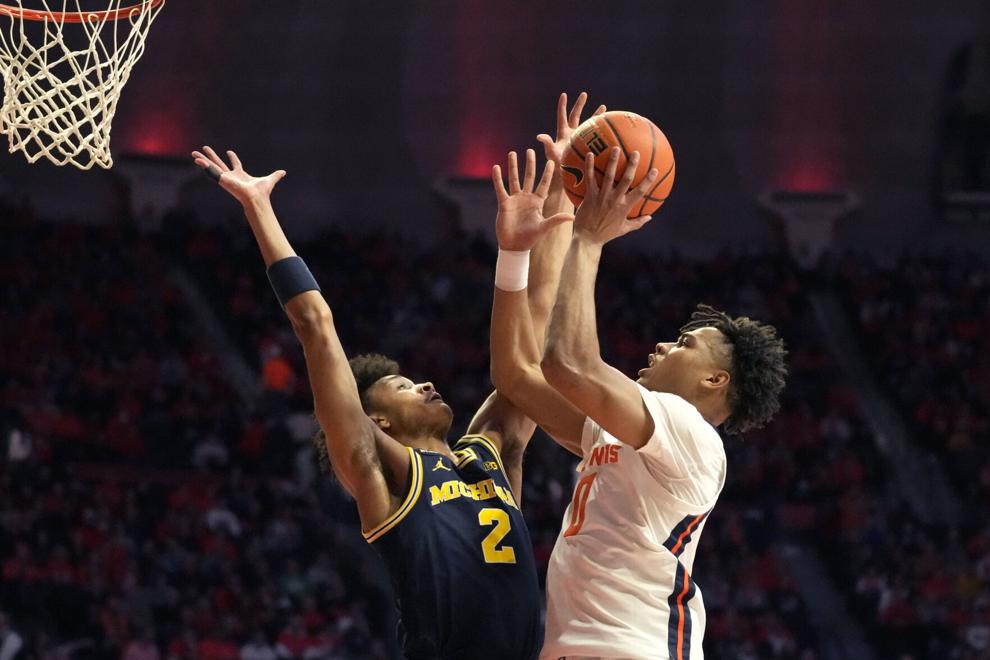 Michigan Illinois Basketball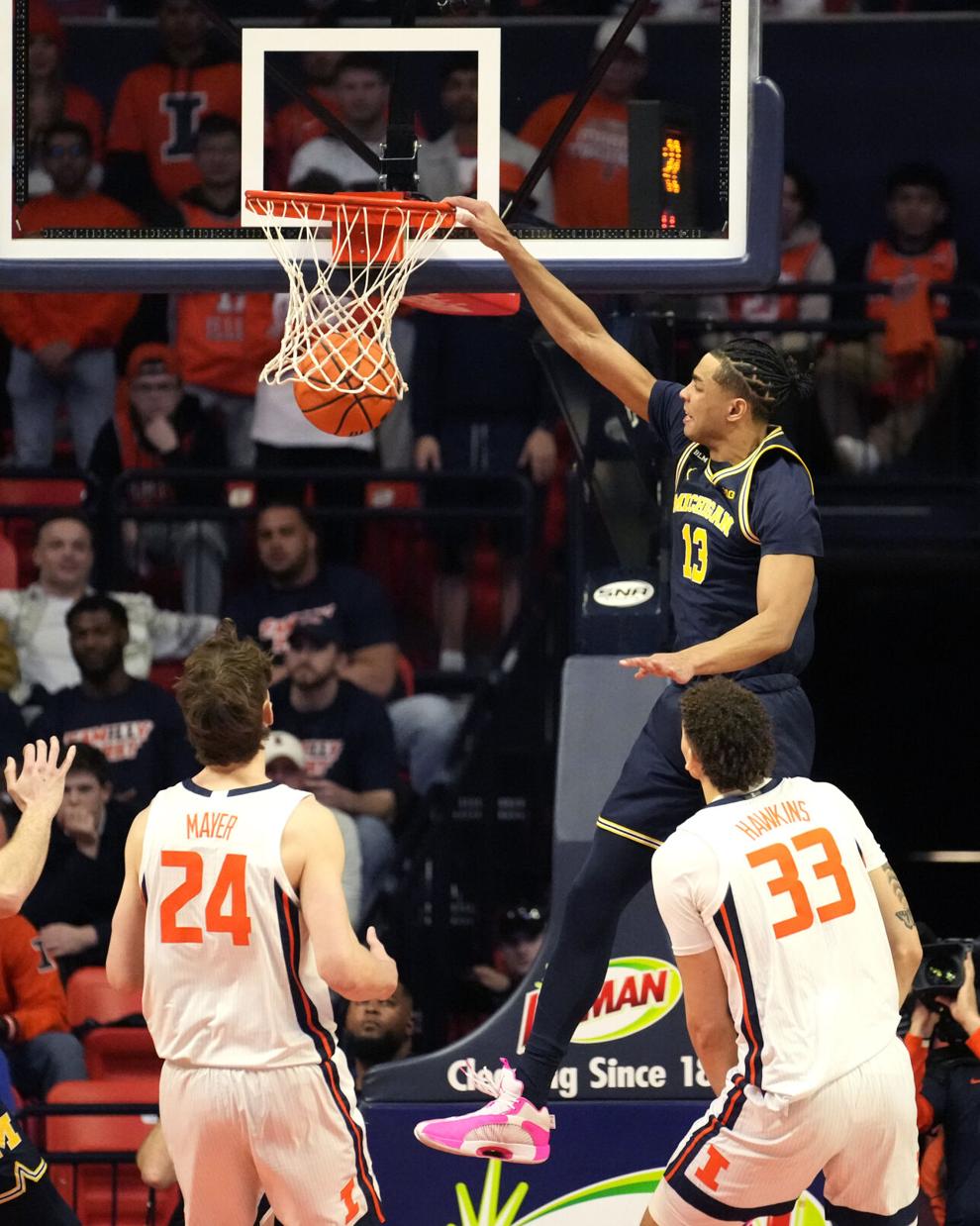 Michigan Illinois Basketball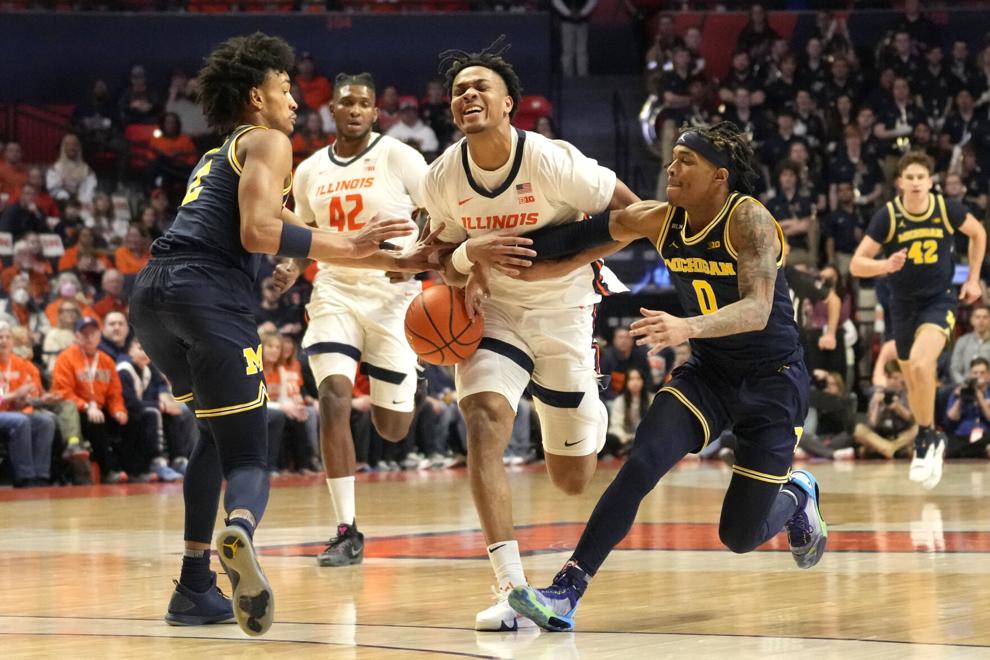 Michigan Illinois Basketball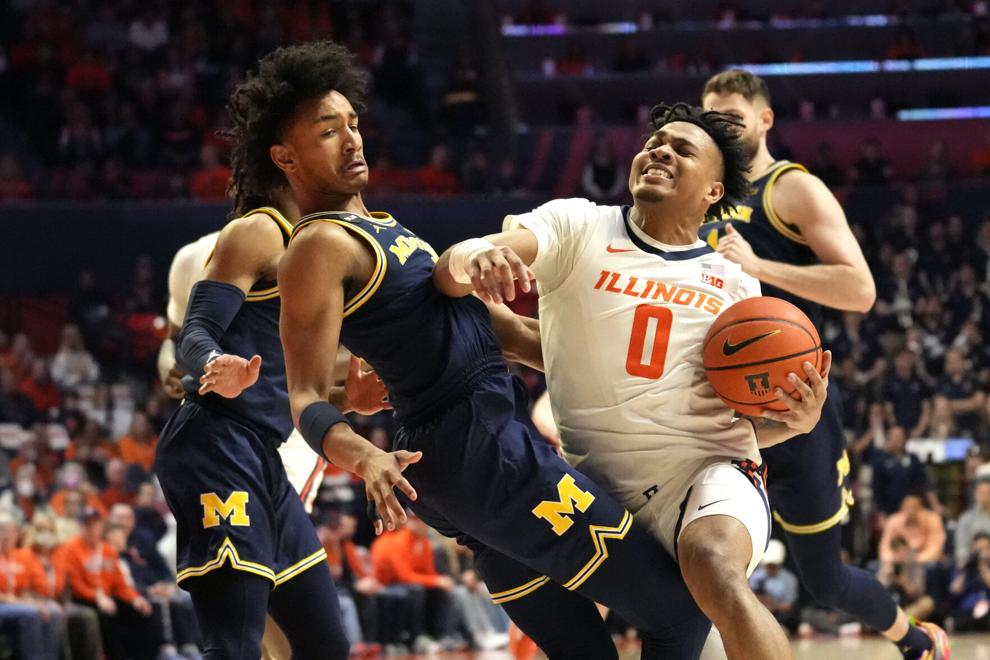 Michigan Illinois Basketball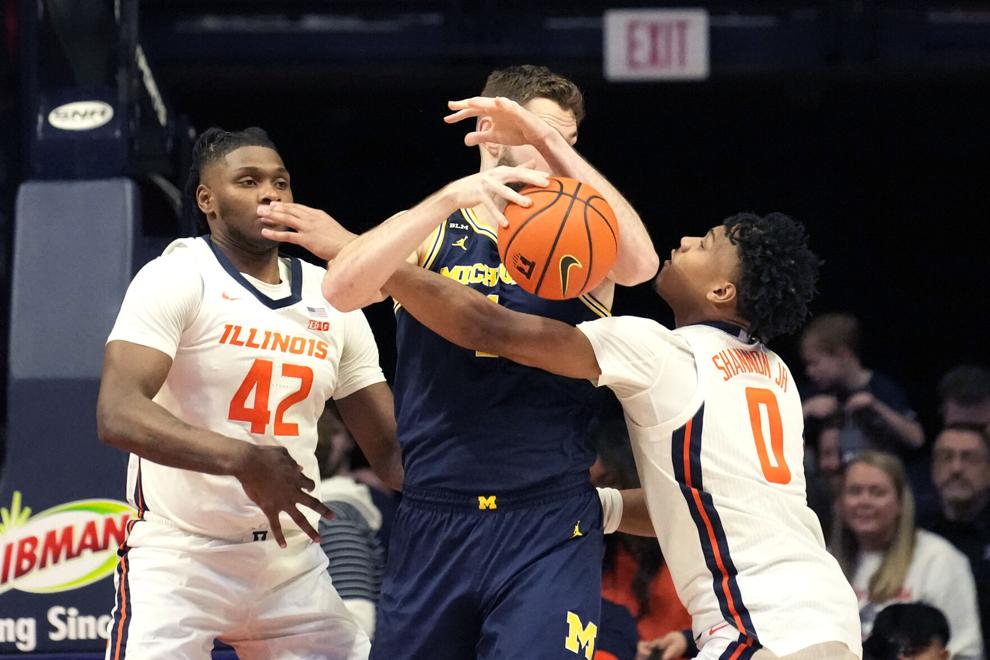 Michigan Illinois Basketball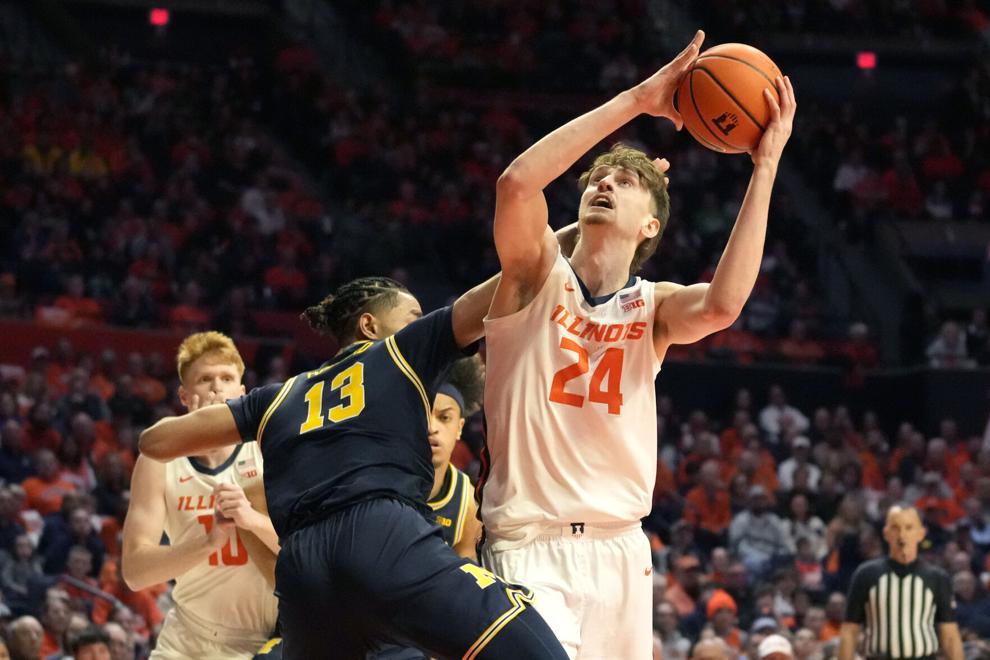 Michigan Illinois Basketball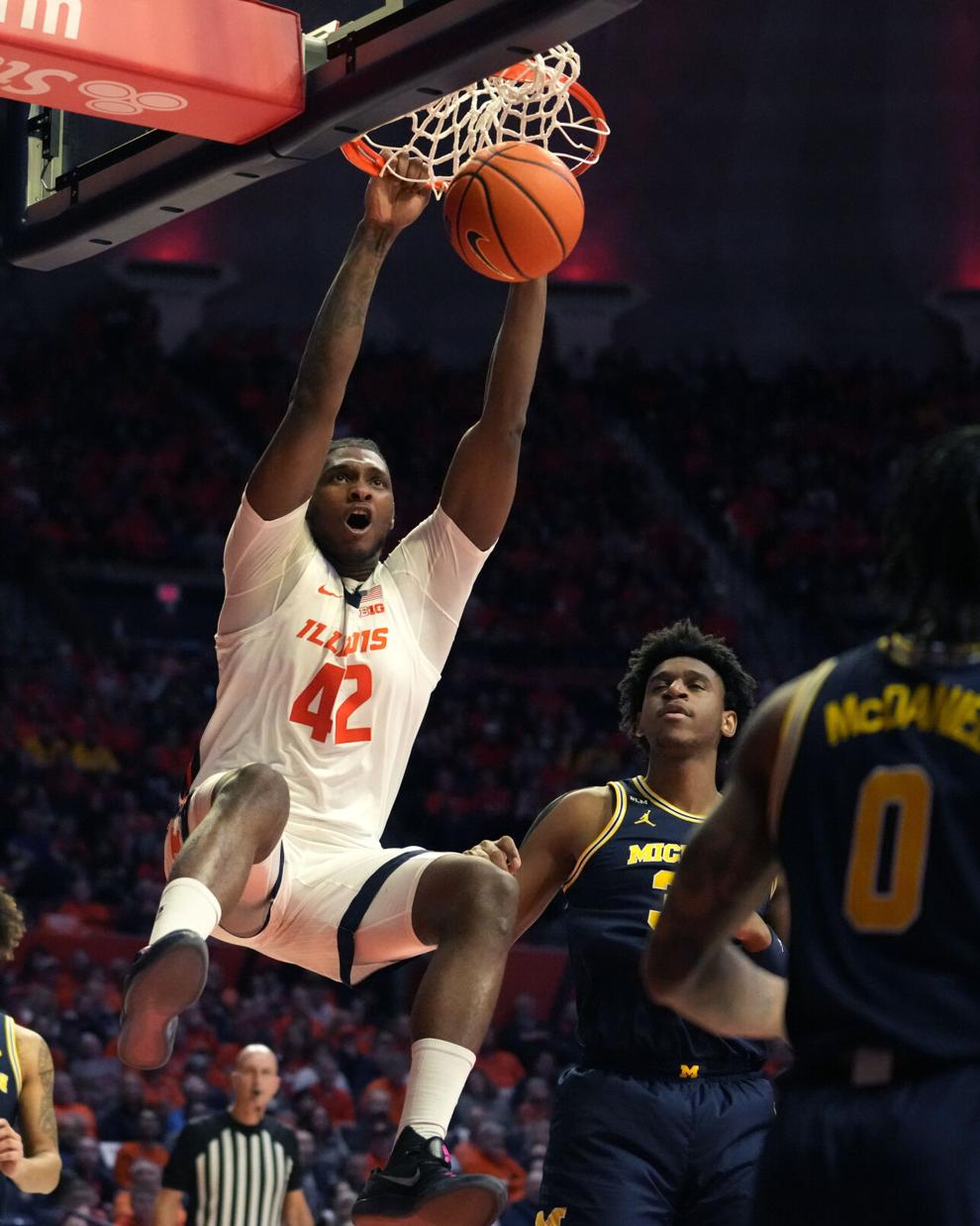 Michigan Illinois Basketball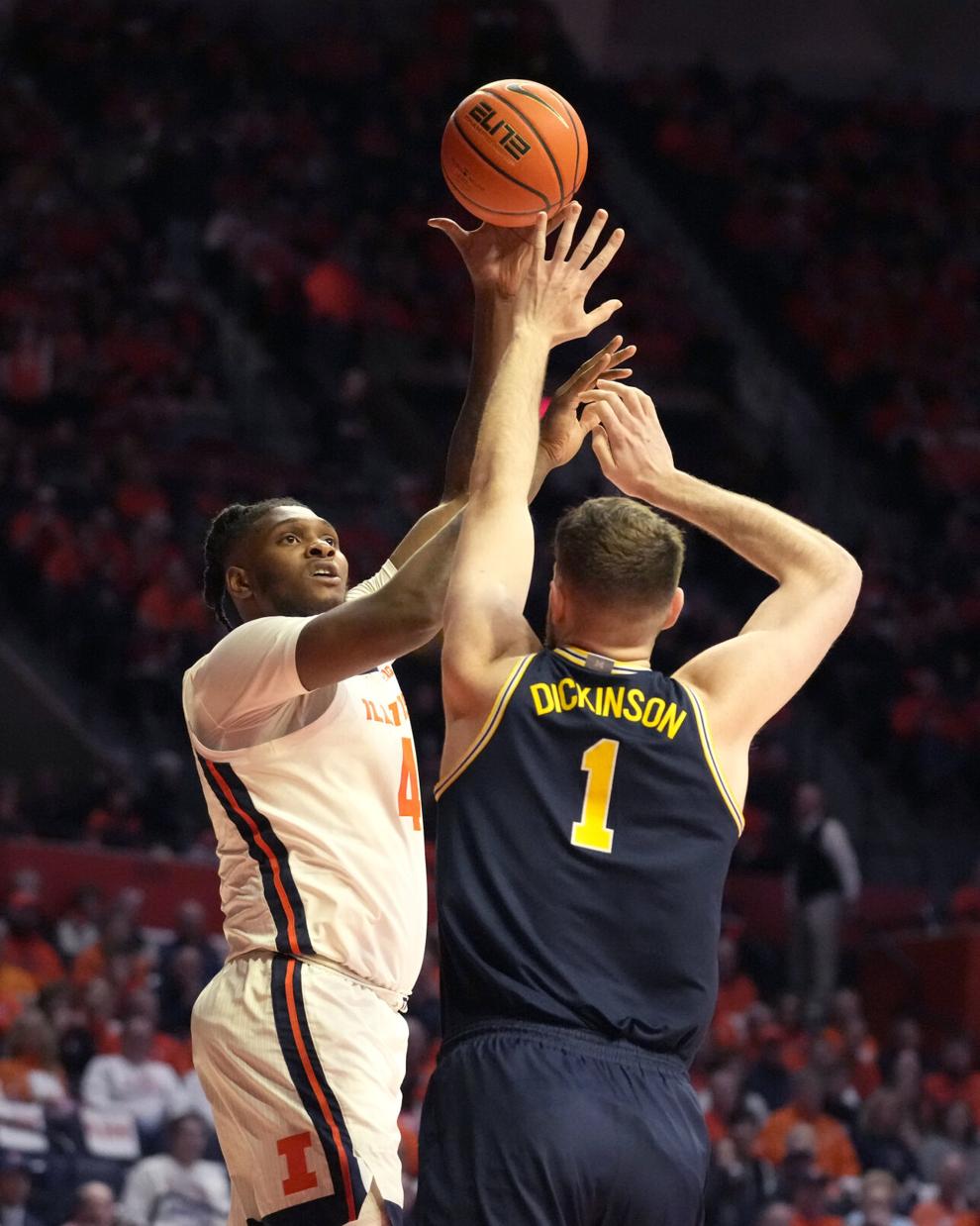 APTOPIX Michigan Illinois Basketball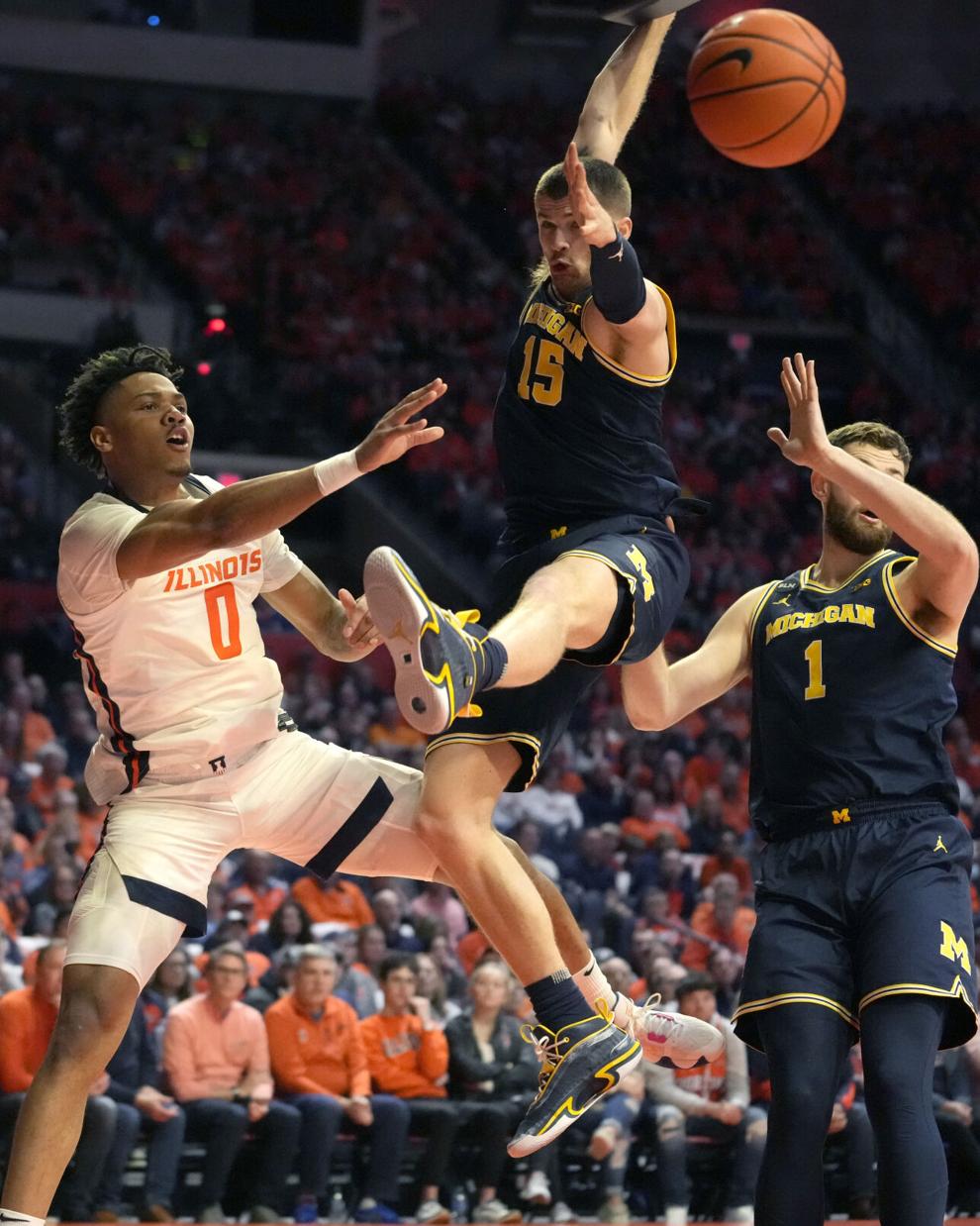 Michigan Illinois Basketball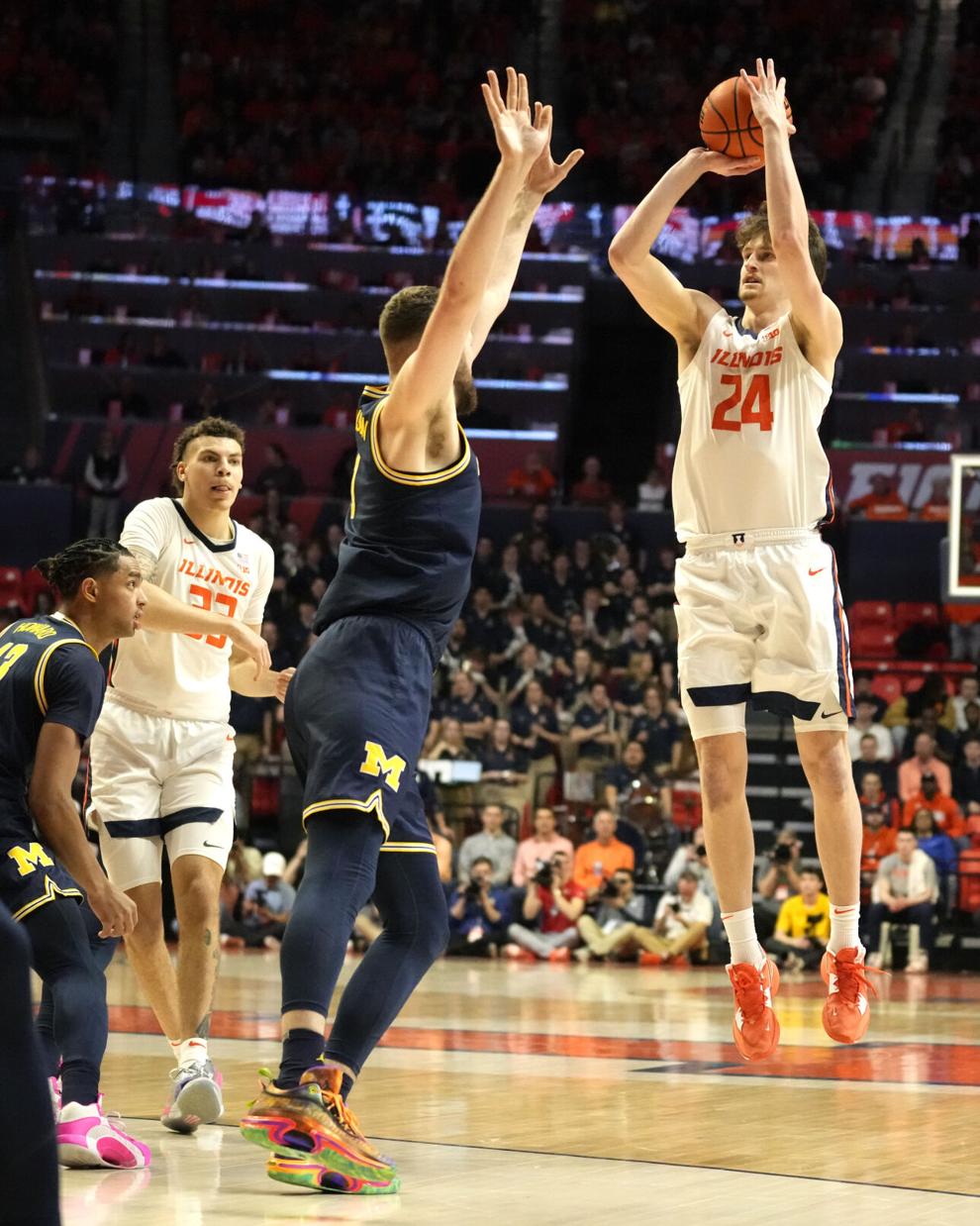 Michigan Illinois Basketball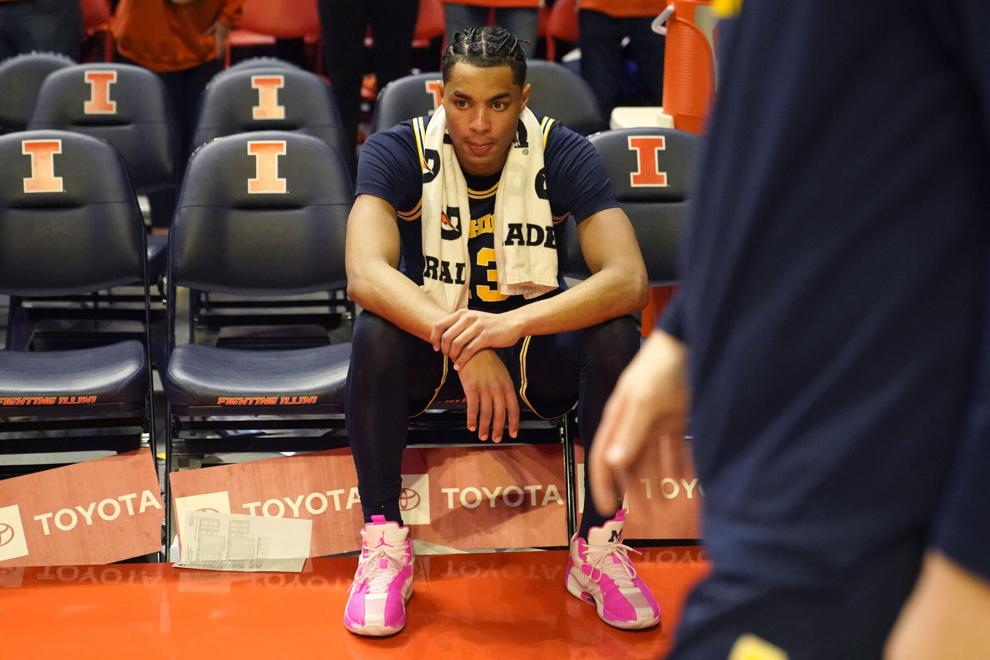 Michigan Illinois Basketball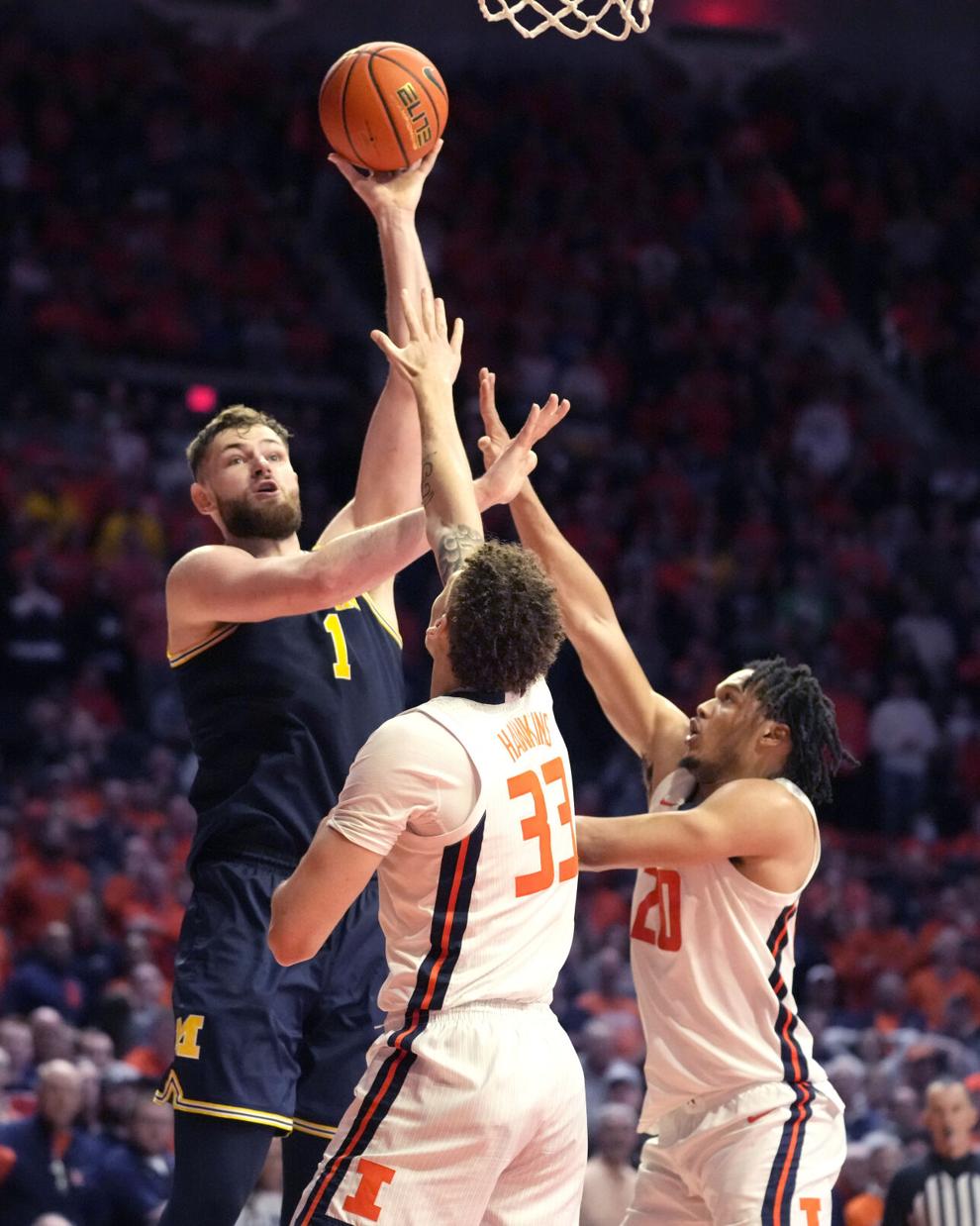 Michigan Illinois Basketball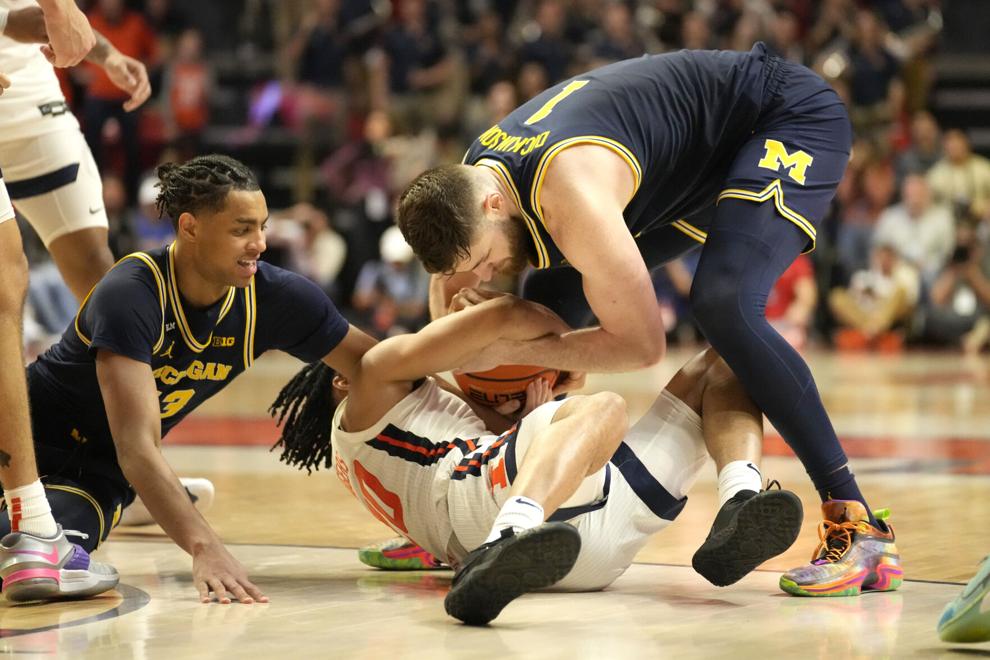 Michigan Illinois Basketball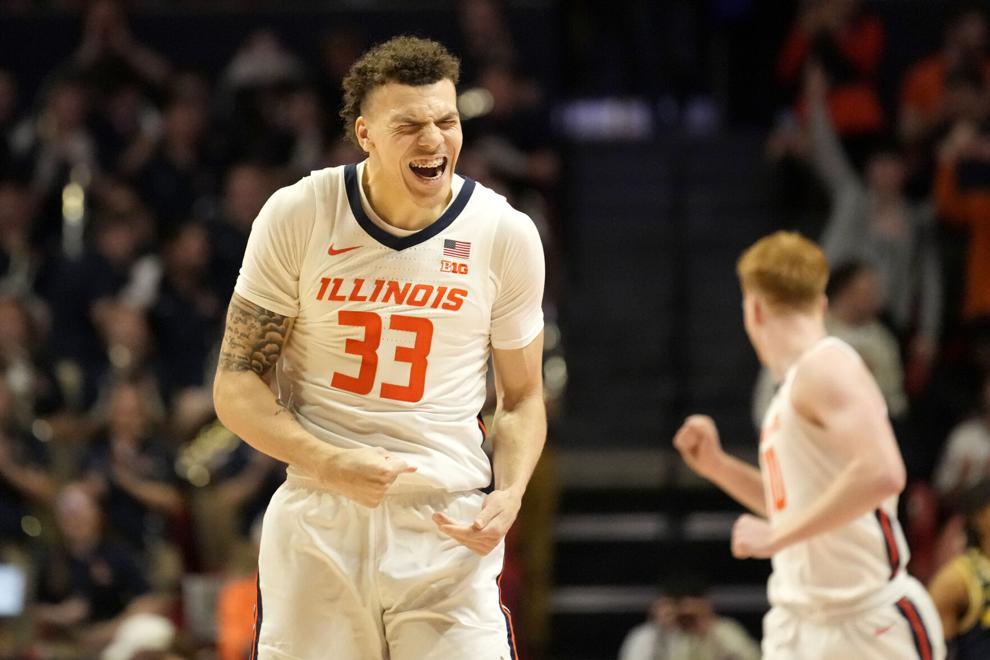 Michigan Illinois Basketball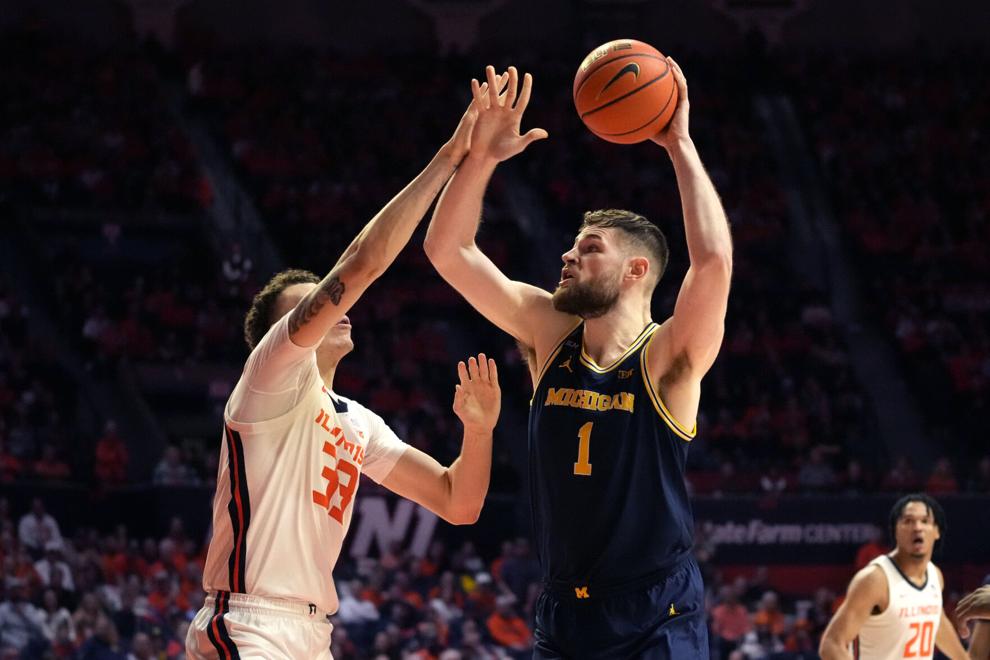 Michigan Illinois Basketball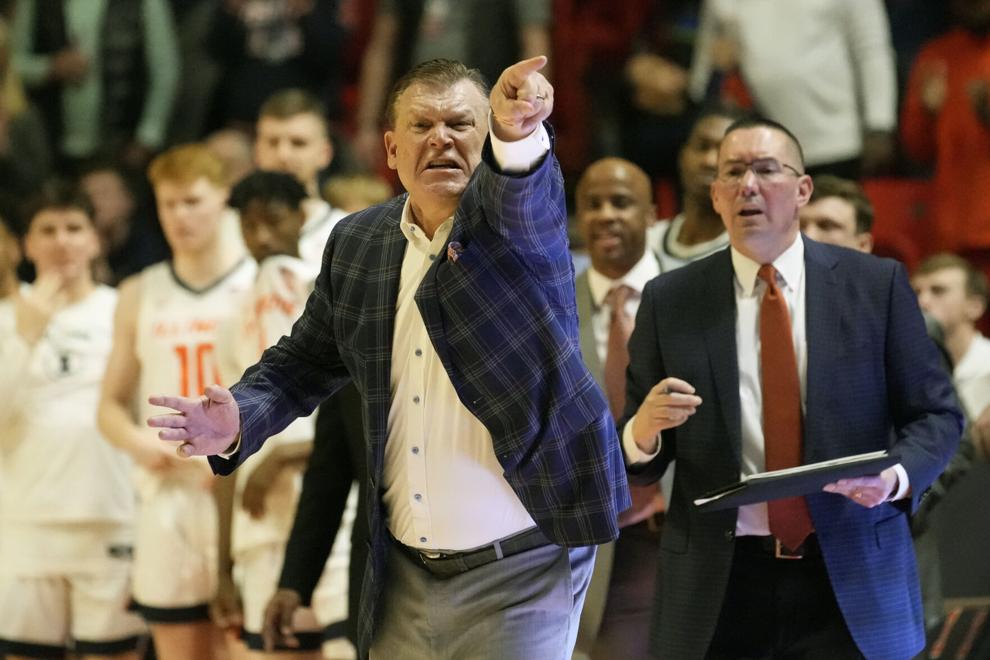 Follow Anderson Kimball on Twitter at: byAndy Kimball