By Bill McEvoy
In honor of Memorial Day, local historian Bill McEvoy has compiled histories of some of the Civil War clergy who are buried at Mount Auburn Cemetery. This is part 14 of 15.
Reverend George Alexander Oviatt was Born on April 11, 1811, in Bridgeport, Connecticut. He died June 1, 1887, in Sudbury, Massachusetts, from paralysis.
Reverend Oviatt, graduated from Yale in 1835, and then its divinity school. He was a Congregationalist.
In 1838, he has ordained a pastor of the church in Belchertown, Massachusetts, 1838. In 1845, he became the pastor of the Sherman Avenue church in Boston.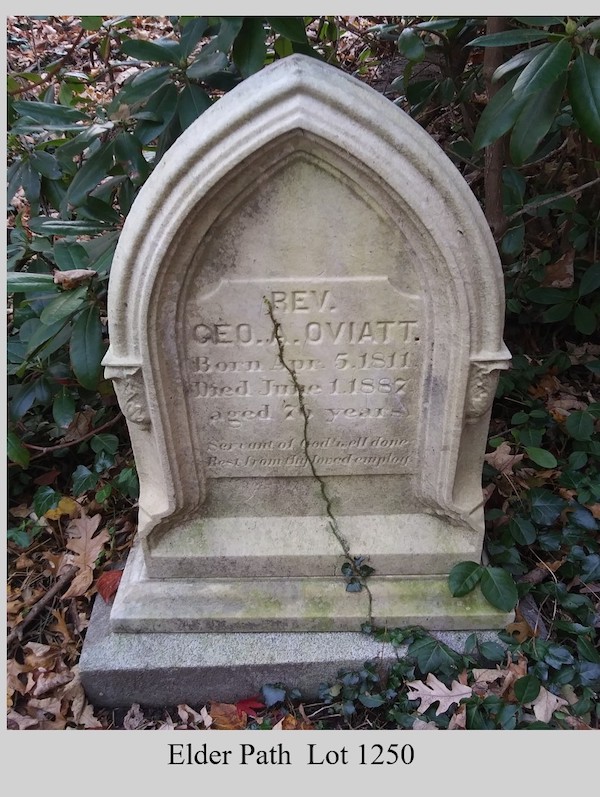 From May 1851 to 1855, he was in Chicopee, Massachusetts. He then went to Somers, Connecticut.
On October 2nd, 1862, he enlisted, as a Chaplain, in Connecticut's, 25th regiment. As a chaplain, he gave himself to the cause with a fervor of Christian patriotism seldom witnessed.
On March 20th, 1863, before the Regiment saw battle, he was honorably discharged due to a disability. 
In 1867 he became pastor of a church at Talcotville, Connecticut, and in 1875 became pastor of the church in Sudbury, Massachusetts. In 1883, his health compelled him to resign from that church.
He was known as a sympathetic pastor and concerned with the welfare of people in the glory of God.
Find the gravesites of the Civil War Clergy by entering their name here: https://www.remembermyjourney.com/Search/Cemetery/325/Map Bill McEvoy can be reached at billmcev@aol.com
(function(d, s, id) {
var js, fjs = d.getElementsByTagName(s)[0];
if (d.getElementById(id)) return;
js = d.createElement(s); js.id = id;
js.src = "//connect.facebook.net/en_US/all.js#xfbml=1";
fjs.parentNode.insertBefore(js, fjs);
}(document, 'script', 'facebook-jssdk'));



Source link