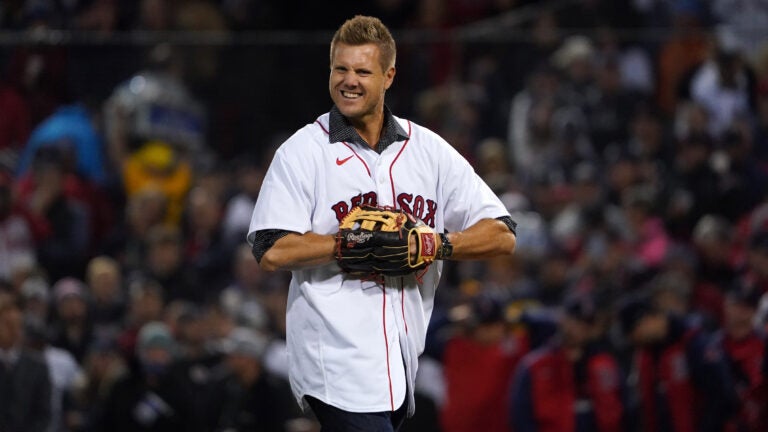 Shortly after the clock struck 6 p.m. on the Aug. 1 MLB Trade Deadline, Red Sox chief baseball officer Chaim Bloom told reporters that he views his team as "underdogs." He appeared to have chosen that word to signify that the Red Sox stood close to the playoffs but still outside them at the deadline, as a way to explain why his team didn't make any sweeping changes at the deadline.
While Bloom may have had good intentions with that word, not everyone was pleased to hear it.
"If your general manager is saying you're underdogs and why should you add on, how do you think everyone else feels around here?" former Red Sox closer Jonathan Papelbon said on "The Bret Boone Podcast."
Papelbon, who pitched for the Red Sox from 2005-2011, has never been one to hide his true feelings. He has criticized Bloom's decision-making in the past, most notably questioning his approach during last year's trade deadline. This time, Papelbon takes aim at Bloom's leadership.
"To me, the statement says everything, and that puts the mood as, 'Oh well, we're not going to win,'" Papelbon said. "So what else do you expect? If the general manager's going to create that mood around here and in this city, why should you expect them to be in the playoffs?"
Papelbon appears to claim that Bloom's choice of words implies that he doesn't believe in his team to succeed. 
"You do not win a championship or you do not go far in the postseason without management having your back, not only in the media but on the team," Papelbon said. "If you don't have front office, staff, and players all protecting each other – having each other's back, trying to do something special – you just don't win."
The Red Sox currently stand three games back of a playoff spot in the AL wild card race. Papelbon believes that they had opportunities before the deadline to enhance their roster and become a true playoff team, but failed to take them. 
"The Red Sox have done absolutely nothing to make them any better," Papelbon said. "If you're in the hunt for the postseason and you need a whole lot more and you don't go get anything, what does that tell you as a player?"
To Papelbon, Bloom and the rest of his front office has made it difficult for players and coaches to do their jobs this season. Papelbon specifically mentioned manager Alex Cora in this regard, who he believes "has done the most amazing job of any manager this year given what he's had to work with."
"[Cora's] job, to me, has been excruciatingly hard," Papelbon said. "And, to me, the front office has made it that way."
Time will tell if the Red Sox will end up making the playoffs at the end of the season. But in Papelbon's eyes, Bloom's inactivity at the deadline and his comments afterward did not make that goal any easier.
Loading…